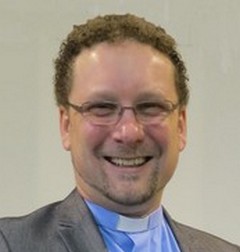 Gary graduated from Northern College, Manchester in 2000 and has been serving the United Reformed Church ever since. In his spare time he enjoys lazy summer days with friends, real ale, messing about with computers and is trying his hand at growing his own veg. There is a rumour he is building a kit car, but internal combustion engines will be outlawed before he ever gets round to finishing it.
WELCOME & INDUCTION OF REVD GARY GOTHAM IN 2013
as Minister of St Andrew's Church, Devizes; Marston; & Trinity Church, Market Lavington
Sunday 10 November 2013 . . .
with Revd Ruth Whitehead (Moderator of the South Western Synod of the United Reformed Church);
Janet Gray (Synod Pastoral Advisor); Revd Roy Fowler of Calne and Pamela Packer (Area Officer).