HISTORY OF THE METHODIST CHURCH IN DEVIZES
There is a complex and, in earlier times, turbulent history of Methodism in Devizes. The movement traces its roots to Revd John Wesley's evangelistic revival movement within the Anglican Church. George Whitefield was another significant leader in the movement. He was known for his unorthodox ministry of itinerant open-air preaching. Wesley, along with his brother Charles, and Whitefield were branded as 'Methodist' by opposing clergy within the Church of England. Initially Whitefield and the Wesleys merely sought reform by way of a return to the Gospel, with the Church of England, but the movement spread and soon a significant number of Anglican clergy became known as Methodists in the mid-eighteenth century.
John Wesley visited the town in January 1747 and Mr Innes, a local curate, roused the inhabitants against him before he arrived. He was preaching in the house of a Mr Clark, which was surrounded by a mob. These listened to Wesley and calmed down and he was successful on later visits. However, when his brother, Charles, was in Devizes, he met with a mob and barely escaped with his life.
After this the Wesley's were understandably reluctant to visit the town and although John Wesley stayed here in 1764 he did not preach in Devizes again until 1772, making 13 visits between that year and 1790.
In 1777, a house in St Mary's, probably Clark's, was certified for worship. There was a minister in 1783 although it was said that the congregation was declining and there were 'few of better rank'.
Methodism did not form a separate denomination in England until after John Wesley's death in 1795. Other houses in Devizes were certified for worship in 1802 and 1807 and in 1818 a chapel was built in New Park Street. This had the capacity for 316 and was certified and opened in 1819. This was used until 1898 when the Methodist Chapel (the present red brick chapel, now St Andrew's) in Long Street was opened. The earlier chapel was later taken over by the Salvation Army and had been demolished by 1972. The new chapel was successful and the congregation prospered.
HISTORY OF THE CONGREGATIONAL CHURCH IN DEVIZES
Two early religious meetings were said to be Congregationalist. The meeting at John Freme's house, registered in 1669, became Baptist and by 1672 a meeting at Edward Hope's house with Obadiah Wills as minister. From 1763 a group of churchmen in the town were receiving teaching from Richard Baddeley, rector of Hilperton. In 1771 they were taught by Rowland Hill who came to Devizes twice and in that year they came together as a congregation and certified a meeting house.
In 1776 the nucleus of a chapel was built in Northgate Street and called St Mary's Chapel as it was in St Mary's Parish. It was assigned to Calvinist Methodist worship but could have a minister of any denomination. In its earlier years the chapel was served voluntarily by the Revd Robert Sloper. From 1818 The Revd Richard Elliott was the first settled Minister.
The original chapel was small and oblong and in 1790 was enlarged into a square building with other additions over the following years.
With the the union of the Congregational Church in England & Wales and the Presbyterian Church of England in 1972, the United Reformed Church was formed.
In January 1984 the chapel was closed and the congregation joined that of the Methodist Church, forming the now St Andrew's Methodist/United Reformed Church in Long Street.
(St Mary's Chapel has now been converted into one house and six apartments.)
St Andrew's Refurbishment
Phase 1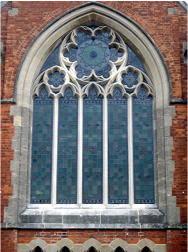 The new Church entrance and Foyer were dedicated in 2003 during the Ministry of Revd Darcey Gritzmacher. She frequently preached about Glass Door Ministry – the opportunity they presented for us to see the world and be reminded of its needs, as we worshipped.
During the following years, we began to question how we could continue that ministry and how to make our building more appropriate for the needs of the 21st century.
An incentive to proceed more quickly with the refurbishment of the whole church was as a result of St Andrew's West window suffering substantial damage in 2008 following storms and high winds. During the large scale reinstatement and restoration of the window, as much remaining fabric as possible was retained or repaired; however approximately 80% of the Carved Stone Tracery and a significant quantity of Stained Glass required replacement
Revd Chris Cory set up a group to do an in-depth report on a suggested way forward, which was subsequently presented to the Church Meeting. This was discussed, prayed about and then voted upon. In 2008 and with overwhelming support, it was agreed to proceed with Phase 1, the refurbishment of the worship area. 21st September 2008 (Harvest Sunday) marked the official launch of StAR Phase 1, the refurbishment of the main church.
The StAR Working Party met monthly throughout for two years, planning, discussing and praying about the way forward. A fundraising group arranged various events and St. Andrew's catering group prepared meals within and beyond the Church. Each of these drew people together and, in working and praying together, we grew together as the Church in a new way.
From the beginning it was agreed that 10% of all locally raised money be given to the Turning Point Trust in Kenya. Alongside our building work we wanted to help build huts for families to start a new life outside the Kibera slum.
With a generous legacy, grants from our parent denominations and other bodies, as well as gifts and fundraising events from within our Church, we reached our budget figure of £280,000 by the end of 2010 and were able to proceed with building. Work was started in January 2011 and completed In May 2011, after which the building was rededicated.
Phase 2
It was a great joy to see the rear upstairs rooms completed. A small kitchenette, a toilet with disabled facilities, a stair lift and all the rooms well decorated, make these good rooms for hirers or for our own use. Additionally, all the windows in the back rooms were renewed and all the stonework repaired. This had been a painstaking task and the results are wonderful. We appreciated everyone's understanding while this work was taking place.
At the end of August 2013, the remaining work was completed on the main Hall, Toilets and Flower Room at the rear of the church. A new electric supply was installed for the new kitchen which was used for the first time for Revd Chris & Barbara Cory's Farewell Lunch on the 28 July 2013.
Again, 10% of all locally raised money for Phase 2 was divided equally between Turning Point Trust & Dorothy House Hospice.
The project was always surrounded in prayer, and it is our belief that God guided us to the point where we are now. In addition, this has never been just a 'building project', but rather more a vehicle by which we, as the people of St. Andrew's, could make our faith more relevant to the community of Devizes. We continue to pray that we will be led and challenged into new ways of service.
We have a building that is an asset to us and to the community – StAR Project has now come to an end.
See 'Contact' page to hire the premises.
(Scroll down to see images of the refurbished church premises.)
Ruth McGregor
—————————————————–
ONGOING
Work continues in order to keep our property in good condition and a safe place for us all to meet. The car park at the back has been tidied up; the fire escape shot-blasted and repainted, and various windows around the back have been replaced.
The final work In September 2014 was outside at the rear of the Church. This was the construction of a new and larger shed – a great asset for storage of the many and varied items used in the church.
We now have a completely refurbished Church building. Thank you to all who have supported StAR, and this work, in any way. We are very grateful for all those who have been part of working parties – on the car park, kitchen, digging trenches and so on. There is fellowship in such activities.
Property Committee
Photos
The Refurbished Church premises